In Memoriam: Lt(jg) James A. Nist, USNR (1921-1945)
By Bryan J. Dickerson
Seventy years ago this month, Martin and Ethel Nist (my great grandparents) received a Western Union telegram with heartbreaking news. Their youngest son James, a Naval Aviator assigned to the aircraft carrier
USS Bunker Hill
(CV-17), was reported Missing in Action in the Pacific Theater. Due to need for wartime secrecy, there were few details.
The Nist family first came to America from Bavaria in 1862 and initially settled in New Orleans, Louisiana. After the Civil War, the Nists moved to New Jersey. Several generations later, James Arthur Nist was born on 14 December 1921 to Martin and Ethel Nist, farmers who lived in Squankum, a section of Howell Township, New Jersey. In addition to farming, Martin was active in local government and at various times served as mayor and township committeeman. James was the youngest of four children born to Martin and Ethel. His older siblings were Martin, Margaret and Kathryn. The Nists raised their children in the Episcopal Christian faith and regularly attended All Saints Episcopal Church in Lakewood.
James was exceptionally bright. He graduated from Lakewood High School in June 1938 at the age of 16 1/2 years old. He attended Rutgers University in New Brunswick, New Jersey on a scholarship and studied biology. He also wrestled on the Rutgers wrestling team. In 1941, he earned his private pilot's license. He graduated from Rutgers in May 1942 with a Bachelors of Sciences degree in Biology.
Following graduation, James entered the U.S. Navy as an aviation cadet. There was some concern about his height; James was only five feet, four inches tall. But he passed the Navy's physical and medical exams. His initial Navy training was at Chapel Hill, North Carolina.
James Nist entered naval aviator training at Naval Air Station Glenview in Illinois in March of 1943. There he completed primary flight training using the N3N biplane. Nicknamed 'the Yellow Peril,' the N3N was a two-seat biplane built by the Naval Aircraft Factory. It had a maximum speed of 125 miles per hour.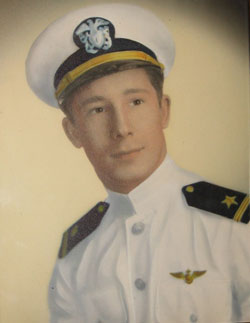 Ensign James A. Nist, USNR, 1943 (Dickerson Family Photo)
In June 1943, Ensign Nist was transferred to Naval Air Station Corpus Christi, Texas where he flew SNV-1, SNJ-3 and SNJ-4 trainer aircraft. The SNV-1 was a mono-plane built by Vultee Aircraft and used by both the Navy and the Army Air Force as a trainer. Capable of 180 miles per hour maximum speed, the SNV-1 earned the nickname of 'the Vibrator' because it tended to vibrate during various phases of flight.
After successfully completing training with the SNV-1, Ensign Nist advanced to fly the SNJ aircraft. Also known as the "Texan", the SNJ was a two-seat advanced flight trainer built by the North American Aircraft Company. The SNJ had a maximum speed of 205 miles per hour. Nist earned his certification as a Naval Aviator on 25 September 1943...two days after his sister Kathryn gave birth to her son James Ronald (my father).
The following month, Ensign Nist was transferred to NAS Miami, Florida. There he flew SBD-3 and SBD-4 Dauntless dive bombers. Manufactured by the Douglas Aircraft Company, the Dauntless had a maximum speed of 254 miles per hour. It could carry up to 1,600 pounds of bombs along the center of the fuselage and another 650 pounds of bombs underneath the wings. The Dauntless had earned an excellent reputation as a carrier dive bomber and had fought with distinction at the Battle of Midway and during the Solomon Islands campaigns of 1942-43.
In January 1944, Ensign Nist earned his carrier qualification aboard
USS Wolverine
while flying SNJ trainer aircraft.
Wolverine
was a sidewheeler steamer that had been converted by the Navy to an aircraft carrier in August 1942. She conducted her training in the Great Lakes.
As the war in the Pacific progressed, there became less of a need for dive bomber pilots and more of a need for fighter/bomber pilots. So Ensign Nist was re-assigned to fly fighters as part of the newly activated Fighting Squadron 84 (VF-84) at Naval Air Station San Diego, California in May 1944. The new VF-84 was commanded by Commander Roger Hedrick, a distinguished veteran of the Solomon Islands campaign and an alumnus of the famed VF-17 "Jolly Rogers", one of the most distinguished Navy fighter squadrons of World War Two. VF-84 was organized around a nucleus of CDR Hedrick and several other VF-17 combat veterans.
Throughout the summer and fall of 1944, VF-84 trained on its F4U Corsairs, FG-1A Corsairs and F6F Hellcats on the West Coast. The Corsairs and Hellcats were the Navy's premier carrier fighter-bombers. Built by the Grumman Aircraft Company, the Hellcat was a single-seat carrier fighter that was armed with six fifty-caliber machine guns. With a maximum speed of 380 miles per hour, the Hellcat was the first American fighter that was superior in performance to the famed Japanese Zero fighter. The F4U Corsair was the heaviest fighter to serve aboard aircraft carriers. Built by the Vought Aircraft Company, the Corsair was also armed with six fifty-caliber machine guns. Its maximum speed was 437 miles per hour. Equally capable as a fighter and a bomber, the Corsair also saw service in the Korean War. Both the Navy and Marine Corps used Corsairs. The Goodyear Aircraft Company produced the FG-1 version of the Corsair under license from Vought.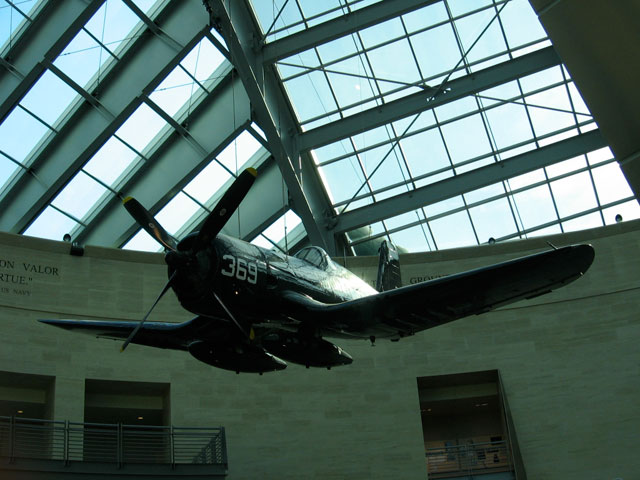 F4U Corsair similar to the aircraft flown by LT(jg) Nist and VF-84 on display at the National Museum of the Marine Corps. (Photo by Author)
While in California, Nist met Alice Richards of San Francisco. The two fell in love and became engaged in September 1944.
In October, Nist was promoted to Lieutenant (Junior Grade).
In November 1944, VF-84 performed its carrier qualifications aboard
USS Takanis Bay
(CVE-89) .
Takanis Bay
was a
Casablanca
-class escort carrier that tested pilots for carrier operations out of San Diego. Lt (jg) Nist was one of 2,509 pilots to qualify aboard her.
VF-84 also conducted carrier qualifications aboard
USS Ranger
(CV-4). The U.S. Navy's first carrier constructed from the keel up as such,
Ranger
had supported Operation Torch, the invasion of North Africa, back in November 1942 and was now training pilots for carrier operations.
After performing their carrier qualifications aboard USS Ranger, VF-84 was assigned to the aircraft carrier USS Bunker Hill (CV-17). Bunker Hill was an Essex-class fleet aircraft carrier built by Bethlehem Steel in Quincy, Massachusetts. Commissioned in May 1943,
Bunker Hill
entered the war in the fall of 1943. She supported the Tarawa invasion, the Marshall Islands invasions, and the Marianas Islands invasions, and conducted numerous air strikes against Japanese bases in Truk, Rabaul, the Philippines and Formosa. VF-84 was part of Air Group 84, which also included Torpedo Squadron 84 (VT-84), Bombing Squadron 84 (VB-84), and two U.S. Marine Corps fighter squadrons VMF-221 and VMF-451.
VF-84 and Air Group 84 reported aboard
Bunker Hill
on 24 January 1945 at NAS Alameda, California. That afternoon,
Bunker Hill
departed for Pearl Harbor en route to the western Pacific. In early February,
Bunker Hill
became part of Vice Admiral Marc Mitscher's Task Force 58 of Admiral Raymond Spruance's Fifth U.S. Fleet. There were five carrier task groups in Task Force 58.
Bunker Hill
was part of Task Group 58.2 which also included USS Essex (CV-9), the light carrier
USS Cowpens
(CVL-25), the battleships
USS South Dakota
(BB-56) and
USS New Jersey
(BB-62), five cruisers and fourteen destroyers. Mitscher made
Bunker Hill
his flagship for TF-58, also known as the Fast Carrier Task Force.
Like most of the naval aviators in Task Force 58, Lt(jg) Nist had never flown in combat. His first combat mission was one of the toughest for a rookie pilot to endure. On 16-17 February 1945, TF-58 launched air strikes on the Japanese Home Islands and the city of Tokyo. These were the first Navy carrier air strikes on Imperial Japan. The weather was rainy and windy which got progressively worse.
Lt(jg) Nist's first combat mission was a photo-strike against Hamamatsu and Mikatabar (Tenryn) Airfields near Tokyo on 16 February 1945. For this mission, Nist piloted a F6F photo aircraft. The mission lasted 4.3 hours. Later that day, he flew his second combat mission. This time, he piloted a F4U1D in a strike mission against the Nakajima Ota aircraft plant near Tokyo. This strike included 18 fighters, 14 Avenger bombers and 13 Helldiver dive-bombers. Two enemy fighters were shot down during the strike. The following day, Nist flew Combat Air Patrol in defense of the Task Group without incident.
Following the strikes on the Japanese Home Islands, TF-58 steamed south to support the invasion of Iwo Jima. On 19 February, the 4th and 5th Marine Divisions stormed ashore on the heavily fortified volcanic island. Japanese resistance was fierce and the Marines suffered heavy casualties. On the invasion day and again two days later, LT(jg) Nist flew a Corsair to provide air support for the Marines ashore. On 22 February, Nist flew a Combat Air Patrol.
Three days later, TF-58 struck again at the Japanese Home Islands. Nist flew a fighter sweep against Inubo Saki near Tokyo. Further missions were cancelled due to bad weather conditions.
Lt(jg) Nist flew ten missions during the month of March. These missions alternated between fighter sweeps and photo-reconnaissance missions against the island of Okinawa and the Japanese Home Islands. During these missions, he flew both Corsairs and photo Hellcats. While flying a photo-strike mission in a Hellcat on 29 March against the Yamakawa Airfield on Kyushu, Nist strafed and destroyed a Japanese aircraft on the ground.
US Navy air operations during March were conducted in preparation for the U.S. invasion of Okinawa. Seizure of this vitally important island would provide advanced bases for the future invasion of the Japanese Home Islands. On 1 April, the U.S. invasion force consisting of both Army and Marine divisions landed on the island and surprisingly advanced well inland against negligible Japanese resistance. Unknown at the time, the Japanese had established heavily fortified defensive lines farther north and south of the invasion beaches. When US forces reached these well-prepared defenses, fierce fighting ensued and casualties quickly soared.
On the day of the invasion, Lt(jg) Nist flew a Hellcat on a photo-strike against Okinawa. Two days later, he flew Combat Air Patrol in a Corsair.
On the afternoon of 4 April 1945, Nist flew his final mission. Earlier in the day, a strike mission had been launched against Japanese air fields on the island of Amami O Shima, about midway between Okinawa and the Japanese Home Islands. At 1502, a second strike was launched from
Bunker Hill
. This strike consisted of three photo planes and seven Corsairs armed with bombs. Lt(jg) Nist was piloting Corsair Number 57835. The mission bombed the Kikai Air Field. Japanese heavy and medium anti-aircraft fire was very accurate. Three of the American planes were struck by anti-aircraft fire. Two of those pilots survived. While diving on the air field, Lt Nist's Corsair was struck by anti-aircraft fire near the cockpit. His Corsair crashed and exploded on impact. He was observed to go in with the plane leading his squadron mates to conclude that he had been killed by the anti-aircraft fire.
Initially, though, Nist was listed as Missing in Action. As the weeks went by, it became more apparent that he had been killed. The Navy changed his status from Missing in Action to Killed in Action. He was posthumously awarded the Air Medal for his combat operations against the Japanese Home Islands and Iwo Jima from 16 February to 1 March, a second Air Medal for the bombing mission that claimed his life on 4 April and the Distinguished Flying Cross for the 16 February strike on the Nakajima Plant near Tokyo.
Even if Nist had survived this mission, he most likely would not have survived the war. On 11 May 1945,
Bunker Hill
was struck by two kamikazi aircraft off Okinawa. One of the kamikazi aircraft's bombs detonated in VF-84's Ready Room. 346 of
Bunker Hill
's crew were killed, including nearly every pilot of VF-84.
After the war's conclusion, Lt(jg) Nist's remains were located on Amami O Shima and temporarily interred on Okinawa. In 1949, his remains were brought home to New Jersey and he was buried with full military honors in Lakewood's Evergreen Cemetery in the Nist Family plot.
James Nist's death in the service of his country was a great loss to his family and fiancee. He had lived a short but distinguished life in which he had excelled in many endeavors. His death in part helped to ensure a better world for future generations, including those who are linked to him through family bonds.
May his soul and all souls of the faithfully departed through the mercy of God rest in peace. Amen,
A note on sources: This memorial tribute was compiled from stories about Uncle Jimmy that my grandmother told me, Mission Records of VF-84 and the War Diary of
USS Bunker Hill
both of which are located in Record Group 38 in the National Archive II, College Park, Maryland, Tom Blackburn and Eric Hammel's
The Jolly Rogers: The Story of Tom Blackburn and Navy Fighting Squadron VF-17
(St. Paul, MN: Zenith Books, 1998), Samuel Eliot Morison's
History of United States Naval Operations in World War Two Volume 14 Victory in the Pacific
(Chicago: U of Illinois P, 2002),
The Dictionary of American Naval Fighting Ships, American Military Aircraft: A History of Innovation
(London: Amber Books, 2009), and Uncle Jimmy's Flight Log which my grandmother gave me.
© 2023 Bryan J. Dickerson
Published online: 04/04/2015.
Written by Bryan Dickerson. If you have questions or comments on this article, please contact Bryan Dickerson at:
jbentrada@yahoo.com
.
About the author:
Bryan J. Dickerson is a military historian specializing in World War Two and a Navy Reserve veteran of Operation Iraqi Freedom. He earned a Masters of Arts in American History from Monmouth University in New Jersey in 1999. He is the former Editor of
Cold War Times
- the online newsletter of the Cold War Museum in Virginia.
* Views expressed by contributors are their own and do not necessarily represent those of MilitaryHistoryOnline.com.
---
© 2023 - MilitaryHistoryOnline.com LLC