Lodge Act Soldier: Henryk "Frenchy" Szarek
By Bob Seals
"I escaped from Poland in order to help Poland."[1]
No nation of the world suffered more during World War II than Poland. Having the geographical misfortune to exist between Nazi Germany and the Soviet Union, Poland sustained more losses as a percentage than any other belligerent; an estimated twenty percent of every man, woman or child in the nation, some 6 million or so by best estimate.[2] Enduring six hellish years of occupation, partition, deportations, slave labor and mass executions, the Polish suffering did not end with the unconditional surrender of the Third Reich on May 7, 1945. Thousands of Polish nationals, to include soldiers who had faithfully served the Allied cause on various fronts, faced an uncertain future, part of the enormous 14 million refugee population of Europe displaced by war.[3] With the Iron Curtain stretching from "…Stettin in the Baltic to Trieste in the Adriatic," in the words of Winston S. Churchill, individuals displaced by the war faced the agonizing choice of remaining in the west or returning eastward to live in their Stalinist dominated communist homelands.[4]
For many, this statelessness was the beginning of their long struggle and subsequent journey across a ruined continent. For some, this journey ultimately led to service in the United States Army during the early Cold War. Under a now, nearly forgotten U.S. Congressional Act, popularly known as the Lodge Act, in honor of the act's sponsor Senator Henry Cabot Lodge, Army enlistments were authorized for 12,500 unmarried Eastern European males for five years of service beginning in 1950.[5] Popularly referred to as Lodge Act men or soldiers, these aliens brought unique capabilities to the Army, with a number eventually serving in the nascent U.S. Army Special Forces after 1952. All Lodge Act soldiers had unique backgrounds, but for one of the soldiers, Henryk Szarek, his enlistment in the U.S. Army in 1953 was to be the fifth army of his colorful military career at age 26. Commonly known to all as "Frenchy," Szarek is an illustrative example of these soldiers who provided a distinctive foreign flavor, with considerable language and unconventional warfare experience in those early days of Army Special Forces.
Background
Born in Poland in 1927, Henryk Szarek shortly afterwards traveled to France with his parents as an infant. As a child he developed a proficiency in the French language that provided a nickname and valuable skill in the years to follow. Returning to Poland seven years later he was unable to speak Polish. On September 1, 1939 an idyllic childhood in south west Poland was ended as four German Armies crossed the border, beginning their wholesale destruction of Poland. His family in their hometown of Czestochowa, only 30 or so kilometers from the international border, fled the invaders but not before Henryk asked, in French, the first German soldiers from the 10th German Army he encountered if they were French allies coming to the defense of Poland.[6]
After the defeat of Poland, German SS Chief Heinrich Himmler declared that "all Poles will disappear from the earth."[7] Poles such as the Szareks were now fair game for ruthless exploitation by a brutal Reich. Frenchy and his family soon confronted this stark reality. In late 1941, with his stepfather confined in a concentration camp, young Henryk found himself deported to East Prussia as a forced agricultural laborer. Poorly fed, housed and clothed, Szarek was fortunate to return home to Poland four months later. The train ride back was harrowing and included a terrifying sleepless layover inside a concentration camp before reaching Poland.[8]
With the war going poorly for Germany in the east, Polish civilians were exploited more and more as the Russian Army neared. After being forced to dig anti-tank ditches to the east of Czestochowa, Frenchy found himself enlisted by force into the German 24th Field Gendarmerie Division, with duty as a barber. It was the army or a concentration camp. This unpopular assignment provided him however, with the opportunity to gain much information and relay it to the growing Polish Underground. The front moved closer and the advancing Soviet Army could clearly be heard, "I felt very happy that the day of 'liberation' was near. Little did I realize at that time that the day of liberation was…very far away."[9] In the ensuring chaos Frenchy was able to leave the German Army as their forces retreated westward early in 1945. Linking up with the Soviet equipped Polish First Army, led by General Zygmunt Berling; he joined the cause as a linguist and messenger for the now victorious Polish Army. Wanting more active service in the Polish Army Szarek was told by his company commander that "You're too young and too valuable…to get yourself killed…you'll have many opportunities in your life to see action and get yourself killed," prophetic words indeed. [10]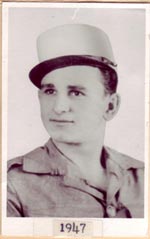 Service with the Polish Army afforded the young Szarek the opportunity to witness the Soviets as their forces crossed into Germany…"I hated the Russians then…Nazi brutality was mild in comparison to what I had seen of the Russians." [11] Back in Poland after the end of the war, Soviet repression in "People's Poland" was widespread. Mass arrests, torture and deportation to the Soviet Union were common with more NKVD Regiments stationed in "victorious" Poland than defeated Germany. [12] For Frenchy it was time to leave "Things were becoming unbearable under Russian rule so I decided to get out of Poland and join the Second Corps in Italy." [13] After a clandestine border crossing and train ride to Berlin, Szarek traveled to Italy in 1946 to join the British Army's Polish 2nd Corps in Italy, commanded by General Anders, in the belief that "we will be able to help Poland throw the Russians out." [14] Now in his third army he was assigned to the Corps 7th Motorized Cavalry Regiment. After a year of service in the British Army the decision was made in 1947 to disband the Polish 2nd Corps and convince the stateless Poles to return home. In a dramatic scene the disbanded Poles threw their British Army Pay Books at the feet of their commanding officer because as Frenchy put it, "…we were disgusted." [15] Traveling to Rome, Frenchy and twenty other Poles made the decision to join the French Foreign Legion.
After arriving at a French Occupation Army caserne in Italy, Szarek found himself as a cadre Corporal after enlistment. Due to his proficiency in French he was tasked with preparing recruits for shipment to the Legion Headquarters in Sidi-Bel-Abbes, Algeria. His initial tenure in his fourth army was to be relatively brief, however. After being informed he was to remain indefinitely in Italy due to his superb performance as cadre, Frenchy left the Legion and traveled back to Poland executing his second clandestine border crossing through the Iron Curtain, this time back to Czestochowa. Back in Poland Frenchy learned of the death of his mother and that he was wanted by the special police for "questioning." It was a time of de facto civil war in Poland, with Communist authorities arresting any and all who seemed to pose a possible threat. Szarek was deemed to be such a threat. Heading westwards he made his third clandestine border crossing and enlisted for a second time in the French Foreign Legion; this time in the French occupation zone of Austria in 1947. [16]
"You are not German, nor Pole… you are not Swiss. You are a Legionnaire…if anyone asks you who you are you always answer 'I am a Legionnaire'…Do you understand?" [17] Frenchy understood. At the home of the Legion, Sidi-Bel-Abbes in French Algeria, he was back in uniform once more and was thoroughly inculcated with the "march or die" ethos of this formidable fighting force. Assigned to the 4th Demi-Brigade in the Atlas Mountains of Morocco, he was selected for NCO training due to his impressive ability to speak six languages and his prior military experience. Surviving a bout of malaria during training, Corporal Szarek graduated in the top third of his NCO class, and began training newly assigned Legionnaires. After completion of their training cycle, Frenchy and his company were assigned a familiar Legion duty, road construction. Growing weary of road building in the mountains, an opportunity arose when an announcement was made that the Foreign Legion was forming an airborne battalion. He recalled, "we all laughed…who ever heard of the Legion having an airborne unit? One of their jokes." [18]
Selected for the first ever Legion Airborne Battalion forming in Algeria, Szarek traveled to Philipville for required parachute training, and the extra French franc equivalent of three dollars a month. The concept of airborne Legionnaires was controversial, might not the jumpers desert after an operation, but after seven qualifying jumps from captured German JU-52 transports, Frenchy and the other volunteers were awarded their French Parachute Badges. By October 1948, the 1st Bataillon Etranger de Parachutistes (BEP) was combat ready and bound for French Indochina. In Asia, after the war, France struggled to maintain control over her colonies, and the 1st BEP was used as an airborne quick reaction force in Northern Vietnam, or Tonkin. Stationed at Gia Lam airfield near Hanoi, Frenchy and the Legion airborne battalion, an elite within an elite, were used repeatedly in extremely hazardous operations against the Communist Viet Minh. [19]
During three years in Vietnam Szarek made numerous combat jumps as a mortar section chief, was commended for life saving bravery in the Rapid Canal, and was wounded by small arms fire in 1950. This wound was rather fortuitous since while recuperating Frenchy missed the near complete destruction of the 1st BEP in the fall of 1950 along Route Colonial Four, with only 29 Legionnaires returning to friendly lines. [20] Departing Vietnam aboard a hospital ship he was discharged from the Legion for wounds in 1952, after a 5 year enlistment. Szarek once again faced an uncertain future. Awarded an 11 dollar a month pension by the French government for his wounds, he returned to Paris to find work. While working at a garage in the city of light, Frenchy first learned of the Lodge Act from a German speaking American Sergeant in the Women's Army Corps (WAC). The concept of another enlistment seemed farfetched for Szarek because he recalled "How can I join the American Army, I'm Polish?" [21]
Farfetched or not, he applied for enlistment. Szarek soon received a letter from U.S. Army Europe to report to the 4097th Polish Labor Service Battalion in Pirmasens, West Germany, as the initial step towards service. Formed after the war, Labor Service units such as the 4097th Polish LS Bn provided needed guard, engineer, transport and health services for the Army in Europe. Composed of single males, Labor Service units included Czech, Lithuanian, Estonian, Albanian, Bulgarian, and Polish nationalities. It was a rather sedate assignment after combat in Indochina with the Foreign Legion, but after 6 months service Frenchy reported to Heidelberg for Army testing. Passing all tests, Szarek was once again in uniform for the fifth time. Enlisting Lodge Act soldiers had various motivations, but for Frenchy his was ideological, "…to go to Korea and fight the Communists there. I had no other way…this would be my opportunity." [22] Enlisting into the US Army, he was now PVT Henry K. Szarek, RA 10812686, in July 1953. "I was very proud and happy." [23]
The advantages of the American Army were immediately apparent to Lodge Act soldiers such as Szarek who were amazed at the creature comforts found in the Mess Hall, PX and with a base pay of $78 a month as Privates. [24] From Germany, Frenchy and other Lodge Act soldiers traveled via troop ship to the United States. After arrival in the United States, more testing, medical exams and screening followed. Szarek did not attend additional English language training at Fort Devens, MA, as other Lodge Act soldiers. Due to an administrative "SNAFU," he found himself at Fort Dix, NJ for sixteen weeks of Basic and Advanced Infantry Training with the 9th Infantry Division, with his English language skills a work in progress. Upon completion of training Szarek volunteered for airborne duty again, and was assigned to 82nd Airborne Division at Fort Bragg, NC, with duty in the famous 504th Parachute Infantry Regiment, "the Devils in Baggy Pants." Attending Jump School at Bragg, he received special attention, "My big French jump wings got me a lot of push-ups." [25]
In 1954, after learning of Army Special Forces, Szarek soon volunteered, joining other Lodge Act soldiers in the then little known force, often confused with Special Services. First organized by legendary OSS veteran Colonel Aaron Bank in 1952 at Fort Bragg, Special Forces were a good fit for many and did hold the promise of meaningful service that might ultimately lead to the liberation of occupied Eastern European homelands. Assigned to 77th Special Forces Group (Airborne), Frenchy, by this time a natural for rigorous combat training and unconventional warfare, was awarded his SF MOS of 33533 in March 1955. [26] When the call went out for volunteers for assignment with 10th Special Forces Group (Airborne) in Germany, he volunteered yet again. It was in Bad Tolz that his skills and experience were to be used with greatest effect. Forward deployed in Germany, near the Iron Curtain, the 10th SFGA trained hard, preparing for a possible Soviet-led invasion of Europe. Frenchy was a key player, for example, during Group Unconventional Warfare Field Training Exercises such as Autumn Walk III in France, working with locals, helping to establish and run escape and evasion nets for recovery of downed aircrew and personnel if the Cold War turned hot. Such skills did not pass unnoticed and he was eventually moved from an operational Field Team to Group Headquarters and Headquarters Company where six European languages could be used to great effect by the Commander and staff.
A fellow Lodge Act soldier and 10th SFGA member, Rudolf Horvath, a native of Budapest, who swam the Danube River to enlist, observed that Frenchy and others had one skill, above all, of great value to the embryonic U.S. Army Special Forces. "…All the Lodge Act boys had one thing in common: a knack for survival. We had survived World War II and the postwar hardships, and we had made our way out of Eastern Europe. We possessed a skill that was hard to duplicate through training…"[27] Had the time ever come to parachute into places like Poland, or Hungary, the Lodge Act soldiers would have been invaluable in such an unconventional warfare environment.
After a quick three years in Germany, Szarek's five year enlistment was up. While serving overseas he was awarded his high school diploma, something he had been trying to obtain since his education was interrupted in 1939. By this time happily married, and under orders by his wife not to re-enlist, he left active duty in 1958 as a Sergeant, but continued to serve for a period in the 317th and 320th Special Forces Operational Detachments of the Army Reserve in Massachusetts. [28] Proudly becoming a U.S. citizen, after completing his service, Frenchy and his wife Jeannette were blessed with three children, and nine grandchildren, and six great-grandchildren.
In 1966 Frenchy, along with Guy Stockwell, Doug McClure, Leslie Nielsen and Telly Savalas, joined the French Foreign Legion for the third and final time. Responding to a newspaper advertisement from Universal Pictures, Szarek was one of 25 former Legionnaires in the United States brought to Hollywood as experienced extras for the color remake of Percival Christopher Wren's classic adventure novel
Beau Geste
. In the movie, Szarek is seen as one of the doomed Legionnaires of famous Fort Zindernuef, propped up on the fort's parapet after being killed in action. [29] Active in Special Forces and Foreign Legion veteran organizations, his autobiography,
Ein Soldatenleben
, in 1988 was published by Barett Verlag in Germany.
Conclusion
After the Second World War hundreds of thousands of Europeans faced daunting challenges in war's wake. Displaced Persons (DP) across the continent struggled in an altered sociopolitical landscape with scant money, education, housing or employment prospects. For some the answer was found in the Lodge Act and subsequent service in the United States Army. Frenchy Szarek was one of those who enlisted under the Act, serving with honor and distinction in the U.S. Army, his fifth army, during the Cold War. As noted Special Operations Historian Dr. Charles Briscoe has pointed out, Szarek was one of the Lodge Act soldiers who provided an important, and hard to duplicate, language capability in the embryonic Army Special Forces of the time. [30] Not all Lodge Act soldiers served in Special Forces, but the hundred or so that did provided a distinctly foreign flare that made a then unauthorized Green Beret seem to be a natural part of the uniform. Passing away at age 83 in 2011, Henryk Szarek lived a full life, full of service to family, faith, friends and the nations that he loved so well. It was a life well lived and one we should remember and honor.
Show Footnotes and Bibliography
Written by Bob Seals.
About the author:
Bob Seals is a Command Historian at Fort Bragg, North Carolina. A retired Special Forces officer, he proudly wore the crossed arrow insignia while on active duty. He is married to a retired Army Veterinary Corps officer and their son is a U.S. Military Academy graduate currently serving with the 7th Cavalry, 1st Cavalry Division, in Texas.
Published online: 10/28/2012.
* Views expressed by contributors are their own and do not necessarily represent those of MilitaryHistoryOnline.com.
---
© 2023 - MilitaryHistoryOnline.com LLC