kaii
Oslo Norway
Posts: 3040
Joined: 2010
Belarus
Dramatic events in Belarus these days, the next few days could decide more than just the outcome of the situation in the country.

Everyone (analysts,pundits) seem to just assume Lukashenko is Russia's man.

What if he is not, and the Russians actually see the benefit of aiding the opposition to avoid another Maidan result? Lukashenko hasn't really played ball with Putin for a few years now. Were Russia to gain control of Belarus, the next step would perhaps be to close the Suwalki gap. Danzig corridor, anyone?

That would explain the troop movements in Western Russia and the defensive positions manned by the Belarussian army yesterday and today. Question is, would the Belarussian actually army fight? As the saying goes,if it walks like a duck, and quacks like a duck, but denies it is a duck, then it is a Russian duck...

Interesting days ahead now.
K
----------------------------------
"They tried to bury us - but did not realise that we are seeds." -Volodymyr Zelenskiy, President of Ukraine
Brian W
Atlanta GA USA
Posts: 1119
Joined: 2004
Belarus
Hah, good quote about the duck!

Lukashenko is claiming Poland and Lithuania make him feel uneasy.
Poland and Lithuania? They're definitely thinking..."what?! You're surely kidding". Yes, I know they're NATO, but come on Lukashenko.
And yep, it was preplanned exercises. And very small ones from what I read, like the same number of protesters in Portland right now at any given day of the hour.



Why/how could Russia want want to back Tikhanovskaya?
----------------------------------
"Take it easy. But take it" - Tom Morello's mom.
George
Centre Hastings ON Canada
Posts: 12132
Joined: 2009
Belarus
I saw a demonstration today that took place in Minsk. Lukashenko is claiming that he won the election with 80% of the votes. The crowd in Minsk was massive and peaceful so I think that Lukashenko may by delusional.



NATO was forced to issue a statement saying that there were no NATO operations or exercises planned in the area to counter Lukashenko's claims that Poland and Lithuania were trying to dictate electoral procedures in Belorus and that NATO was involved.

If the protests remain peaceful, Lukashenko would have difficulty justifying a call for the Russians. Not that that matters to him or to Putin.

Cheers,


kaii
Oslo Norway
Posts: 3040
Joined: 2010
Belarus
Quote:



Why/how could Russia want want to back Tikhanovskaya?



This is the interesting question in this. The events in Belarus automatically get compared to the events in Ukraine in 2014, but there are a couple of important differences, IMO:

The first one, of course, is that the Ukrainian events were very much an anti-Russian response to specific decisions made by Yanukovich in relation to the EU deal on the table at the time, but the Ukrainian people had actually been fairly content with Yanukovich in power up till the point when he chose to abandon the deal with the EU and sign with Russia instead. Yanukovich won the elections in Ukraine without large scale cheating,mainly as a result of massive disappointment with the Orange revolution leaders that had failed in their promises. The political system as such was not under attack to the same extent as what we see now in Belarus.
On the contrary, the events in Belarus do not have this anti-Russian element, and are all about getting rid of Lukashenko and the current system, without the hard core nationalist element we saw in Ukraine. The opposition politicians have already held talks with Russia, and it appears their best hope is to achieve an Armenian style take over, where new elections are held, under the protection of Russia, and a new pro-Russian government is elected in elections that are fairly free and fair. Quite strikingly, Tikhanovska chose to send her children to Moscow before the elections,to keep them out of the reaches of Lukashenkos regime. She, herself,chose to go to Lituhania when she left the country, in a situation where it appeared uncertain whether Russia would support Lukashenko or not. I suspect she will travel to Moscow relatively soon, for a swift return to Belarus once the Russian apparatus has decided how to play their cards.

The second element is that Lukashenko and Putin have not been very close for a while, especially after Lukashenko started to make his own direct approaches to the EU about opening up. The Belarussian army has resisted cooperation with Russia in several fields in the last couple of years, and officers deemed too close to Russia have been weeded out. An almost impossible task, of course.
Again, the Ukrainian situation was driven by a strong desire to break with Russia and get closer to the EU and NATO. In Belarus, the opposition is entirely inward looking, focused on human rights and social policy, with very few, if any, declared aspirations in terms of security and foreign policy - there are clear signs that Tikhanovska would be quite content to take the reigns for a short while and then hand over to a newly elected pro-Russian government. She never intended to run in the first place, but had to step in when her husband was arrested. If the Russians back Lukashenko now in crushing this rebellion, they will have another Ukraine on their hands, and possibly event a situation that could spillover the border into Russia itself. If they play ball with the opposition, they can have another Armenia and gain full control of the foreign and security policy of Belarus as well.

I noticed the 28th motorised brigade turned up on the border now, they were supposed to be training in the Caucasus I believe.

The next week will decide this and I can imagine the lights are on late in the Kremlin and at the Aquarium these days.

K
----------------------------------
"They tried to bury us - but did not realise that we are seeds." -Volodymyr Zelenskiy, President of Ukraine
kaii
Oslo Norway
Posts: 3040
Joined: 2010
Belarus
Minsk today. Where have we seen this before...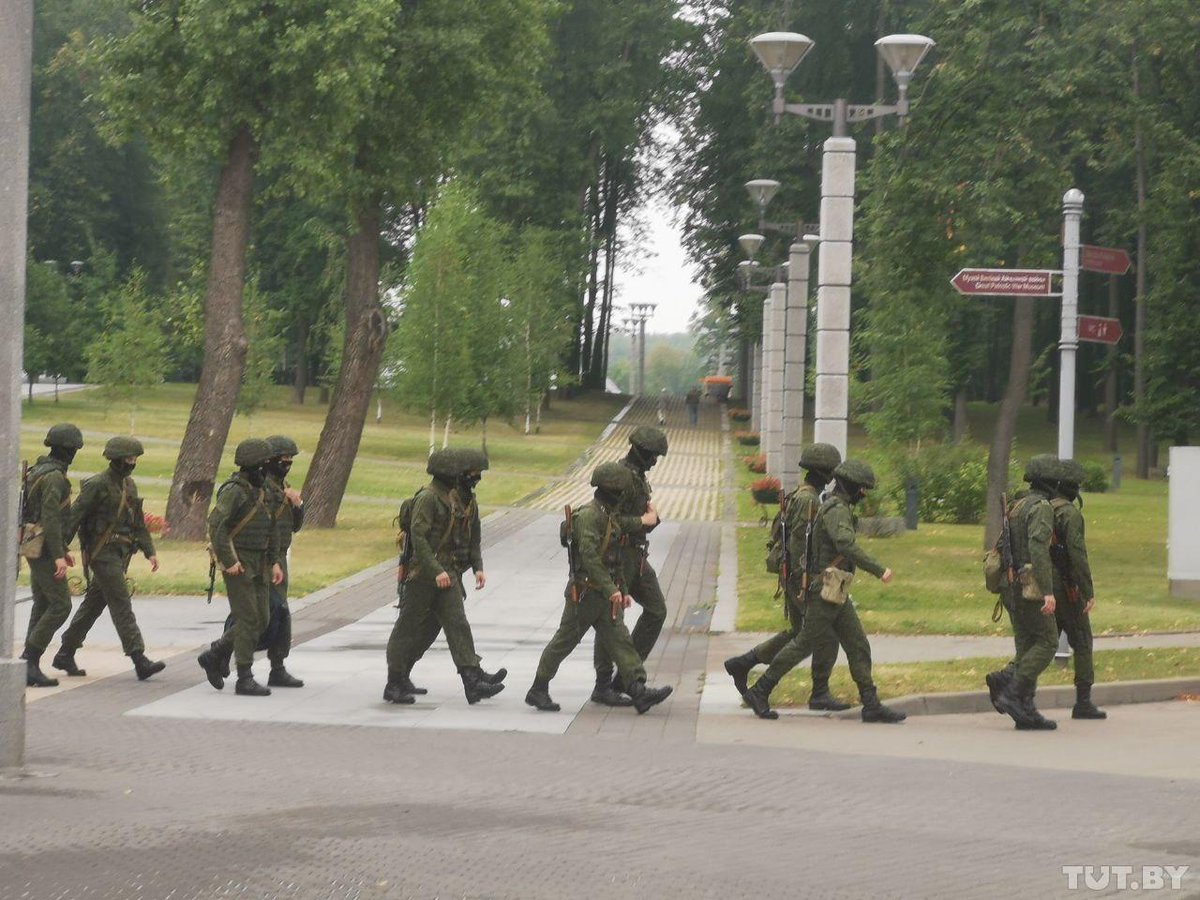 K
----------------------------------
"They tried to bury us - but did not realise that we are seeds." -Volodymyr Zelenskiy, President of Ukraine
George
Centre Hastings ON Canada
Posts: 12132
Joined: 2009
Belarus
No insignia that I can see. Ominous.

George

kaii
Oslo Norway
Posts: 3040
Joined: 2010
Belarus
Quote:

No insignia that I can see. Ominous.

George



Correct George, no insignia or indication of unit (or nationality).
From the equipment deployed it would appear to be either local Belorussian troops, or Russian freelancers with Belorussian kit.

We will see how this develops in the next few days, we are probably coimng up for the end games, whatever they will be, pretty soon now.

K
----------------------------------
"They tried to bury us - but did not realise that we are seeds." -Volodymyr Zelenskiy, President of Ukraine